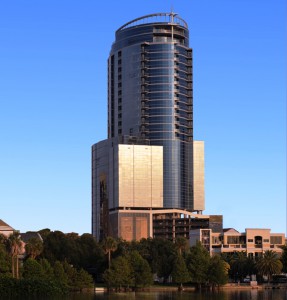 Lincoln Property Co. (Lincoln), in cooperation with the Orlando arts community, is seeking new artwork for its six-story murals on the One Eleven building, a 31-story mixed-use (office, retail and residential) high-rise overlooking Lake Eola — and is asking local artists to create new, unique designs as the replacements for the existing artwork.
Lincoln is committed to continually enhancing the presence of its signature tower and its alliance with the dynamic Orlando art community. Submissions will only be solicited from local artists until Sept. 30, 2014. Three submissions will be chosen and placed on six-story murals on the exterior of the building. The firm is looking for entries that reflect the vibrant energy of downtown Orlando and will enhance the surrounding community.
Entries will be judged by Lincoln Property Co. and the board of See Art Orlando, whose members include Mayor Buddy Dyer. "These panels are a stunning visual feature of the building, and the See Art Orlando board is excited to be asked to participate," said Jennifer Quigley, chairwoman of See Art Orlando. The winning artists will have their work displayed over the streets of downtown Orlando and overlooking Lake Eola for five-plus years and also will receive a cash prize.
Previous winners included Martha Jo Mahoney, a prominent local artist, and Andrew Spears of Metro Finishes. Their artwork has enhanced downtown Orlando since the original call to artists in 2008.
"This is a tremendously exciting, fun and rewarding initiative. One Eleven is a great example in keeping with Lincoln's belief that all towers have an obligation to give back to the community and public art," said Scott Stahley, senior vice president for Lincoln who oversees the firm's central Florida office. "One Eleven is an exciting property in an exciting part of the city, and we can't wait to see how the many talented artists in this area reflect that in their submissions."
The entries must be original, and the submitting artists must reside in central Florida. For complete entry instructions and details, artists should email Lisa Cuatt at lisaq4@gmail.com. For more details, updates and current entries, please visit www.facebook.com/OneElevenMurals.